You have finally met the love of your life and you are ready to take the next step. Buying an engagement ring can be an overwhelming experience for most. We have put together an informative guide to help you shop for the perfect engagement ring, especially one that is 3D printed.
First step - research, research, research
1) Determine and set your budget.
We don't believe that that there is a rule of thumb you should follow in setting a budget for your ring. This should be a cost that you are comfortable and happy with, because we believe there is a perfect ring for every budget. Once you determine a starting budget, this will help you narrow down your parameters. Engagement rings can really vary in price, depending on the stone type, the quality of the stone, and any other details like pave diamonds or engraving.  
2) Research about diamonds or other stone options.
If you are interested in a diamond solitaire, most jewelers now supply both natural or lab-grown diamonds. Here at LACE, we prefer to use lab grown diamonds in our rings to be certain that the diamond is ethically sourced. Lab grown diamonds are diamonds that have been created in a lab. They are chemically composed of the same elements as natural diamonds and are optically identical to natural diamonds. The biggest difference is that lab grown diamonds are not mined from earth and you will not contribute to the conflict diamond industry. There is a lot of controversy in the sourcing of natural diamonds, so you should do your research before going down that path.
So lab grown diamonds are real diamonds!  Another advantage of lab grown diamonds is that they can be up to 30% cheaper than natural diamonds because we are able to order it directly from the makers rather than going through layers of bureacracy. It is a great ethical alternative to natural diamonds.  
Many of our customers opt for alternative stones as well. Other popular stone options include, Ruby, Sapphire, and Emeralds. These can also be lab grown and have very similar characteristics to the natural stone without the hefty price tag.
3) If you're going for a diamond, here's our recommendations on the 4 Cs.
The most important characteristics to a diamond can be remembered through the 4 Cs which are the Carat, Cut, Clarity, & Color of a diamond.
Carat: Typically it is an indicator of the size of the stone but actually, the carat of a diamond refers to the overall weight. Most popular carat weight ranges from 1 to 1.50. We typically find the best selection of stones is in the 1 to 1.10 carat sizes.
Clarity: The clarity of a diamond is determined by how many internal inclusions or "imperfections" the diamond has. These are usually not visible to the naked eye but can be seen through roughly a 10x magnification depending on where the diamond lies on the scale.
The diamond can fall anywhere within the scale which goes as follows: SI2, SI1, VS2, VS1, VVS2, VVS1, IF, & FL. SI meaning slightly included, VS meaning very slightly included, VVS very very slightly included, IF internally flawless & FL flawless. IF & FL are extremely rare especially among lab-grown diamonds. They would be substantially more expensive than other clarity grade diamonds. We usually suggest selecting a diamond between VS2-VVS1. There is a larger range of stones to choose from and imperfections are difficult to see with the naked eye.
Color: The color is determined by how clear the diamond is, ranging in scale from "D" to "Z." Here at LACE, we would only typically select diamonds between D to H. D to F being our clearest and most expensive. G and H are quite clear and most cost effective.
Cut: The cut refers to how symmetrical and even the stone is cut which can affect how the stone reflects light.
Once you know your budget and the stone, it's time to find the perfect ring!  
Engagement rings can come in all sorts of designs and styles. Try to figure out which one would best suite your soon to be fiance. Do they like their jewelry to be more minimal, symmetrical, asymmetrical, simple, or well adorned? These can give you insights on what ring setting they would prefer.
Additionally, there are different band options; with or without pave set diamonds. Pave refers to the small accent diamonds that are embedded into the band of the ring. This can add extra sparkle to a smaller center stone or it could really emphasize a bigger center stone. A plain band is also a great option for those who like a simple solitaire ring.
Adding some small text on the inside of the ring can also personalize the ring, making it even more special. You can have your special dates or initials engraved.    
The most popular precious metals used for engagement rings are 18K Yellow Gold, Rose Gold, White Gold, & Platinum. We are a big fan of platinum as it is a hard metal and wears beautifully over time. If you don't know which one to get, you can look for hints through what your significant other usually wears.
What type of jewelry do they often accessorize with? Is it more on the cool toned like Silver? Then perhaps a White Gold or Platinum ring will be the way to go. Or do they wear warm tones like Gold for their accessories? If so, then perhaps Yellow Gold or Rose Gold will be a better option.
LACE Wedding Capsule Collection
Here at LACE, our wedding ring collection reinvents the classic symbol of timeless love. Our digitally crafted pieces are designed with intention, meaning and expression. Made to order, our engagement rings carry the detail and precision that only 3D printing technology can accomplish. We have designed 3 different 3D printed engagement rings to fit different styles and personalities. For our Rhea and Clio ring, you can use our online price estimator to get an instant quote for your ring with your requirements. Once you have input your criteria, one of our associates will be in touch to follow up with an exact diamond selection and final quote.
Rhea Diamond Ring
For the person who loves to be original, Rhea exhibits an architecturally inspired piece of jewelry that is a departure from the traditional wedding ring. With its unique asymmetrical curve and elegant twists, Rhea embraces a bold, elevated take on the classic solitaire ring. The Rhea Diamond Ring can be paired with the Hera Ring for the perfect fit.
Clio Diamond Ring
For the person who loves a clean, minimalist silhouette, Clio stands beautifully on its own as a classic yet distinct engagement ring. The ring uniquely cradles the stone on the bottom that perfectly compliments the stone. The Clio diamond ring is paired with the Lyra ring for the perfect fit.
Amare Diamond Ring
For the non-traditionalist, the Amare Diamond Ring is a departure from a solitaire engagement ring. The design of the ring creates a loose knot from two lines that merge at the back to form the final union. The ring can be set either with one or both lines with diamonds. This ring is a companion to the Sera Ring.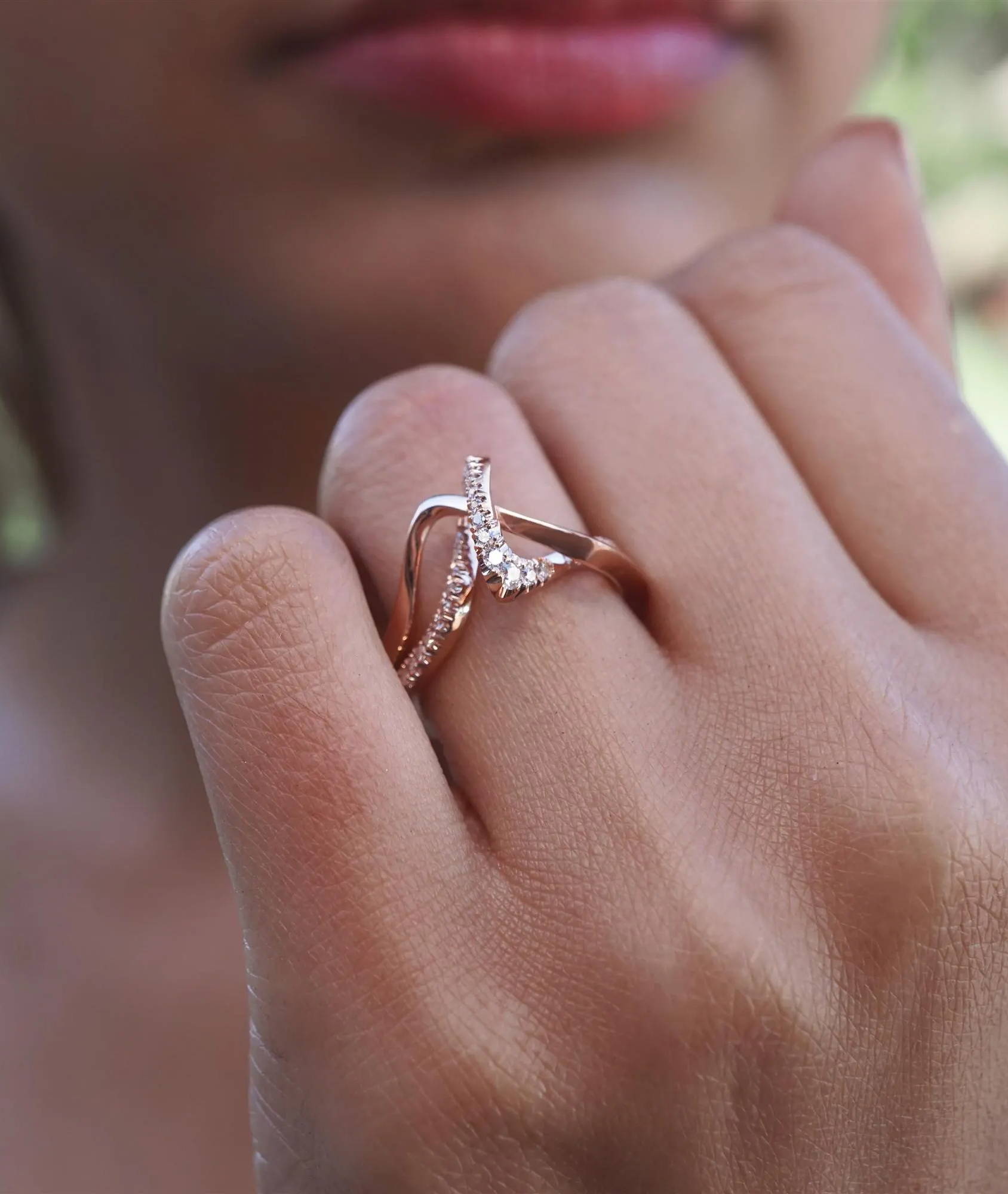 How to figure out their ring size?
Once you have set aside your budget, figured out what style and material you want, you are almost done (but not quite) with the secretive part of your research. Now you have to figure out their ring size. To many this is probably one of the hardest steps to do. Some possible ideas we have heard from our customers: Get a ring that they wear often and taking it to your local jeweler to get it sized. You can also ask a close friend or family members for help. If your significant other already anticipates a proposal asking them upfront would be the best option. Most jewelers will offer resizing services even if you don't get it quite right.
Once everything has been figured out and accounted for, you can move forward to purchasing the ring of their dreams! Make sure you have leave enough time to produce your ring before making your proposal plans. We had to send a last minute ring to a hotel in Hawaii before! As always we are here to help you. Please don't hesitate to reach out to us with your questions at info@oylerwu.com