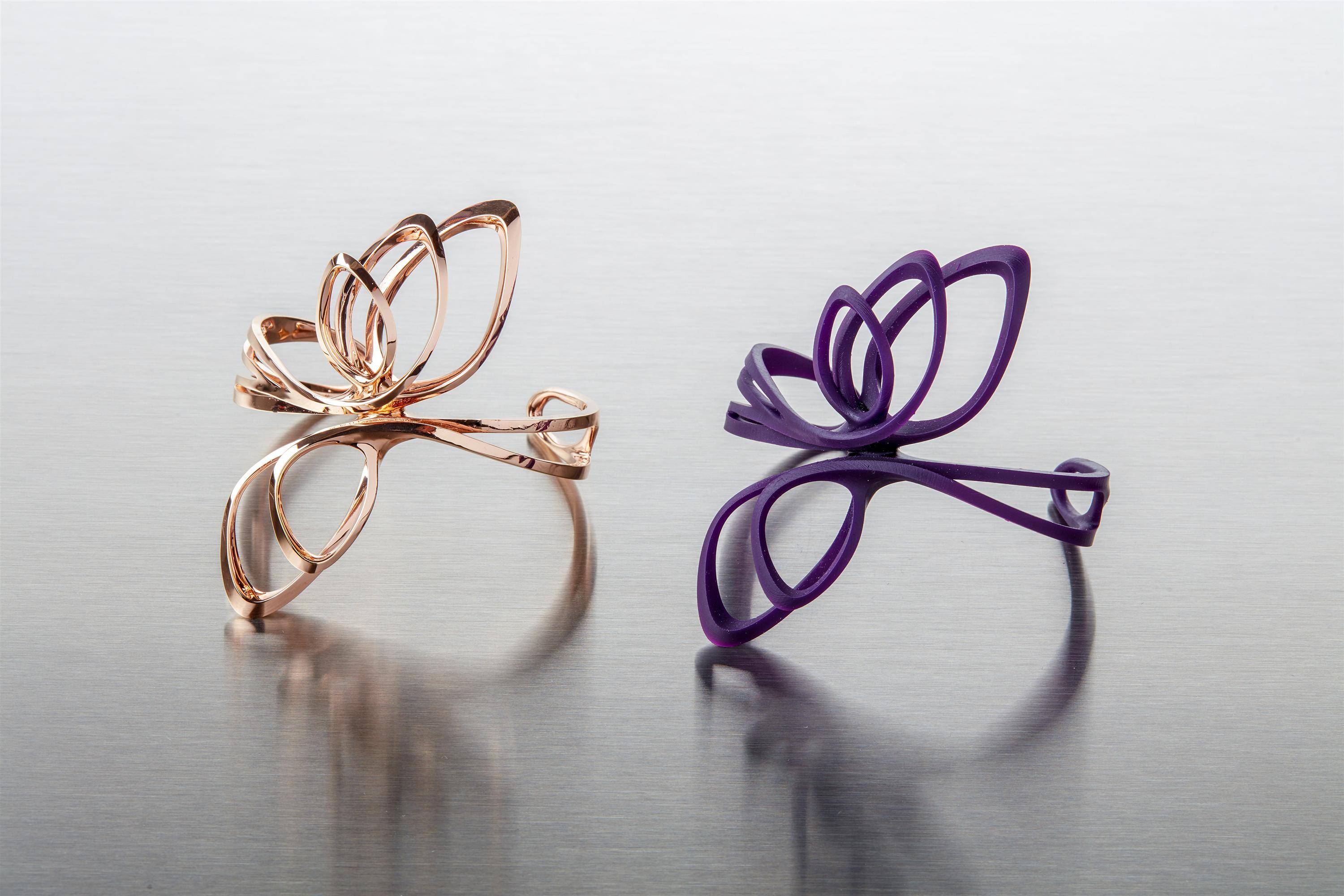 Since 2014, LACE has been pioneering the use of 3D printing technology to produce unique, innovative jewelry pieces. LACE has reinvented many of the traditional jewelry practices from design to its business model. We are constantly testing out new materials and experimenting with different design approaches. While we utilize high end 3D printing as our primary production method, we also produce rapid prototypes to test our designs and check its wearability using our 3D printers in the office. This allows the designers to make adjustments as they work through the prototyping phase while being able to see the results in a matter of hours. Final products are sent out to our trusted manufacturers to ensure that the latest technology and best materials are used.
Selective Laser Sintering
Stria, Catena, Tangens, Florens, and Legato in Thermoplastic Polyurethane (TPU) material are printed using SLS technology.  
Gemino & Orbis Nylon earrings in white and black are printed in hard nylon plastic also using SLS technology.
Even as early as our first collection in 2014, LACE has used SLS technology for their statement necklaces. Over the past 6 years, we have improved the material of our necklaces using different formulations. SLS stands for Selective Laser Sintering, this process consists of the powdered material being solidified layer by layer, allowing the necklaces to be printed as a whole with no added supports making each piece require less post production work. TPU is a lightweight, flexible material that provides the right amount of structure but is still comfortable to wear on the neck.
Gemino & Orbis Nylon earrings are available in white and black and are printed in hard nylon plastic using SLS technology. The material is extremely light weight making it comfortable and perfect for everyday wear.
Binder Jetting Technology
Machina Q & X are exclusively available in Stainless Steel / Bronze, Papilio Light is featured here is in Gray Steel, and Amos Bold is in Stainless Steel 316.
Stainless Steel/ Bronze material is printed using Binder Jetting Technology. The process begins with the bronze infused stainless steel powder being solidified with a glue-like component layer by layer.
The Gray Steel finish is printed using the same method, but is finished off with a patina coating giving it a dark steel color. Unlike the other two finishes, the gray steel finish will wear over time based on its usage.
Stainless Steel 316 is also printed using Binder Jetting Technology but instead of using a bronze binder, it uses stainless steel as the binder. This process is a bit more unstable than the bronze material so it is only being used in our simpler designs like Amos and Amor rings. The entire ring is printed in a pure stainless steel material that has a beautiful smooth finish.  
---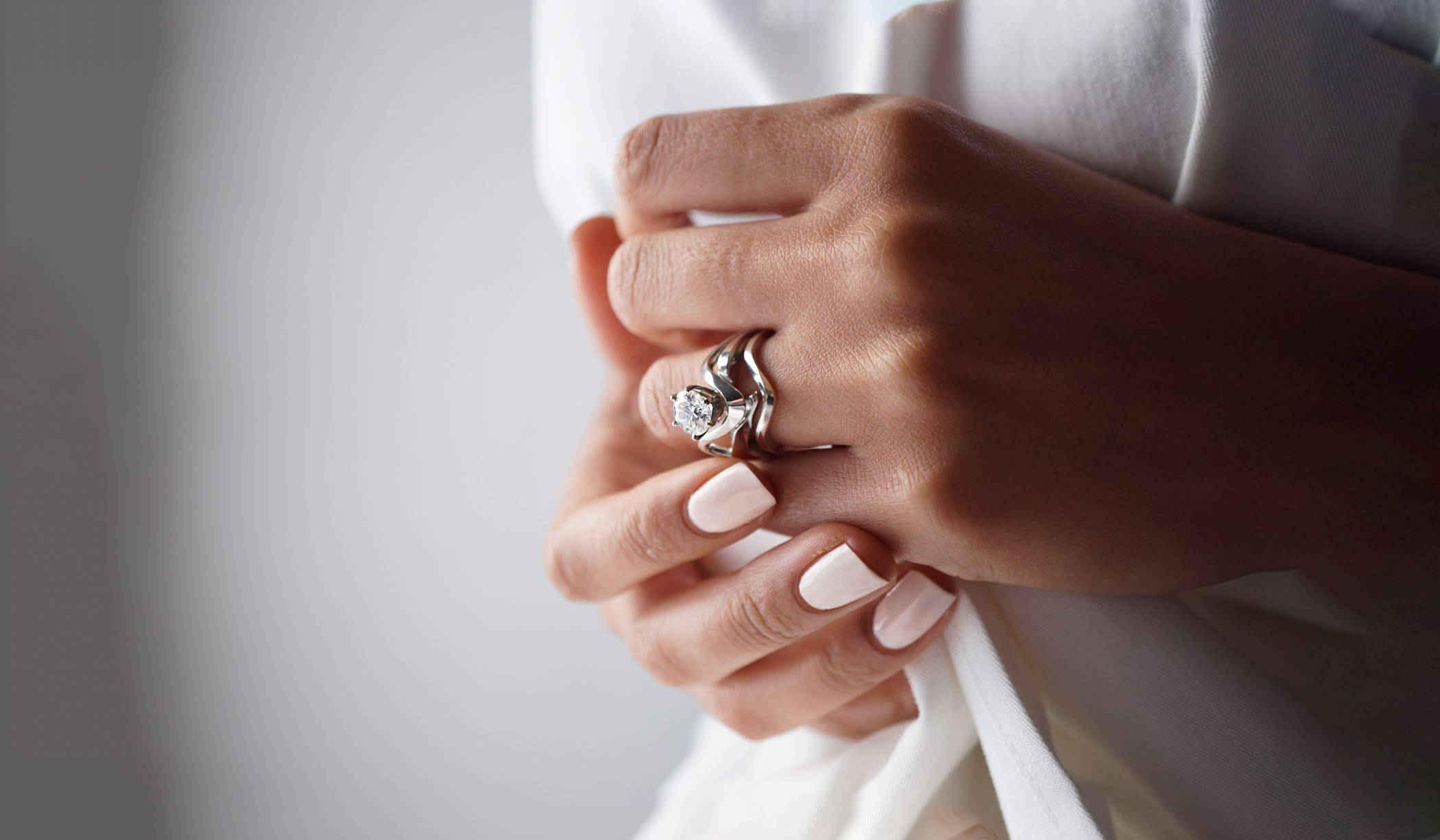 Wax Pattern Printing for Precising Casting
Our Wedding Collection rings are casted in 18K White Gold, 18K Yellow Gold, 18K Rose Gold, & Platinum.
Most of our pieces are also available in Silver and Rose Gold plated Silver.
Rings in our Precious Metals and Wedding collection are produced by first using a wax pattern 3D printer to print a high resolution wax model. The wax is then made into a mold that is then used for the casting. Lost wax technique has been around for centuries. But with the recent developments in 3D printing technology, the mold has become extremely precise and allows for very intricate geometries. All of our premium jewelry is finished by our skillful jewelers, who carefully clean, polish, and finish each piece by hand.